Do you have a sprain or strain? You can definitely apply the principles of R.I.C.E. (rest, ice, compress, elevate) to the injury. But if you want to speed up the healing process, we recommend laser therapy, which we also refer to as low-level laser therapy or cold laser.
Summus P4 laser therapy is an FDA-approved therapeutic treatment that manages pain and inflammation while accelerating tissue regeneration without side effects.
As a Summus P4 laser-certified provider, Evolve Wellness Centre utilizes a state-of-the-art Class IV therapeutic laser. This cold laser will help to facilitate faster healing times as well as a more complete recovery. Like chiropractic treatments, the goal of laser therapy is healing — not merely symptom relief.
Here's how Summus P4 laser therapy works
These therapeutic lasers target damaged tissue with red and near-infrared wavelengths of light that help to heal tissue faster, including muscles, skin and nerves. Laser energy increases blood and lymphatic circulation, drawing water, oxygen and nutrients to the damaged area, while activating cell processes to remove the injured cells, waste products and promote rebuilding. This creates an optimal healing environment that reduces inflammation, swelling, muscle spasm, stiffness and pain.
We see excellent results at Evolve Wellness Centre when using cold laser therapy for both acute and chronic conditions that include (in alphabetical order):
Arthritis/degenerative discs/joints
Bruises/contusions
Bursitis
Carpal tunnel syndrome
Edema/tissue and joint inflammation
Fibromyalgia
Foot and heel pain
Headaches/migraines
Hip pain
Knee issues
Low back pain/sciatica
Muscle spasms/trigger points
Neck pain
Nerve and disc pain
Plantar fasciitis/bunion pains
Post-surgical therapy
Scars and scar tissue
Sports injuries
Sprains and/or strains
TMJ/sinus trouble
Science and research
During laser therapy, infrared laser light interacts with tissues at the cellular level, increasing metabolic activity within the cell. Improving the transport of nutrients across the cell membrane stimulates cellular energy production. The cascade of beneficial effects that follows includes increased cellular function and tissue repair.
More than 1,200 studies conducted over 40 years worldwide have shown the powerful therapeutic benefits of high power laser therapy. These findings include:
Acute pain: diminished more than 70%
Chronic pain: diminished more than 60%
Chronic low back pain: treatment effective in 71% of cases; pain eliminated completely in 45%
Wounds: 55% greater healing on day 8, as compared to placebo group
Knee injury: improved knee flexion and pressure sensitivity after every treatment
Summus P4 laser therapy is administered by one of Evolve Wellness Centre's highly skilled chiropractors using a handheld device the size of a flashlight. The laser is placed directly over the injured area for anywhere from 30 seconds to 9 minutes, depending on the size of the area being treated and the treatment plan. In addition, because our laser considers melanin in the skin, it is adaptable to all six skin phototypes, thereby providing the best treatment protocol.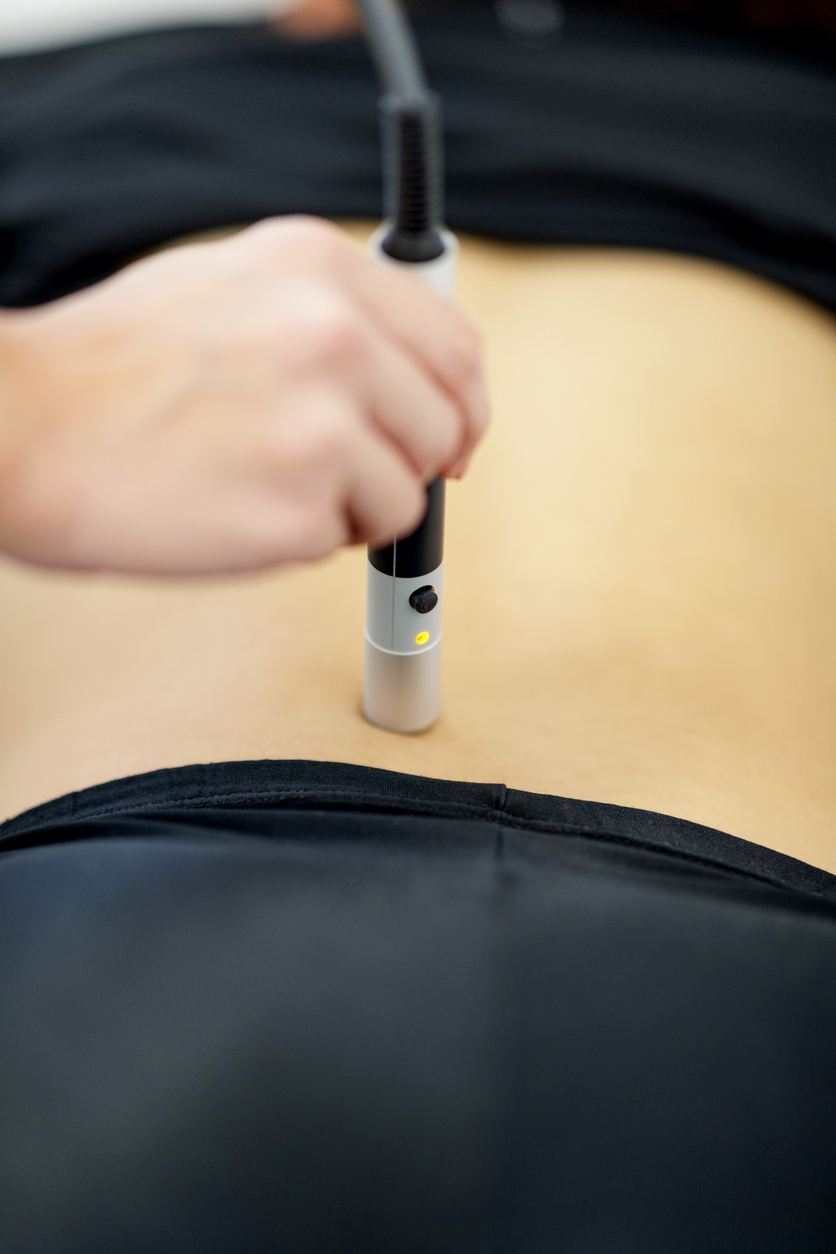 "Laser therapy at Evolve has helped the healing process for my strained knee. It's a relaxing procedure that feels like it is working deep inside the body. Adding laser therapy to chiropractic care and massage has been a magical trifecta of support for improved mobility."
~ S. Kajiwara